Well, I am hopeful that is about to happen because I ordered two pistols on Saturday the 15th in this year of the gun 2023. I had some problems with the distributor, Palmetto State Armory, recently and thought I'd not buy from them again. I readily admit though that when I see a price that cannot be beat on a product I know to be a good one - I take the opportunity to buy it and it does not matter if I think the retailer has screwed up before so long as the screw-up was fairly minor and had nothing to do with: shoving wokeism down the customers' throats, denying American citizens their rights - especially the right to keep & bear arms in the case of gun sales and so forth.
The retailer in question is Palmetto State Armory who gave me a $20.00 in house credit after I had ordered a new AR upper and they sent one to me that was very obviously blemished back in November of last year. When they offered a $20.00 credit they said nothing about it being an in house credit only. First off it should have been more as far as I was concerned. Secondly, I should have called American Express and had the entire charge cancelled for what I think was outright fraud. What I did was asked for a credit to my AMEX card and PSA refused. So, I stopped buying ammo, guns and parts from them for several months because I was pissed off. Being pissed off though is no excuse to be an idiot.
So, when I found out they were selling Rock Island Armory, Rock Standard Full Size Tactical 45 ACP, 5", 8 rd., Parkerized Pistols, manufacturer number: 51431for only $319.99 - I ordered two of them. My son did the same for himself, he truly is a chip off the old block, so to speak.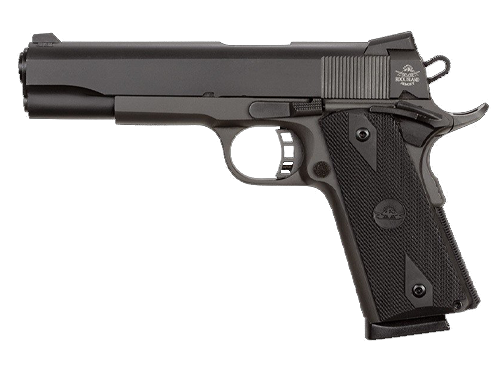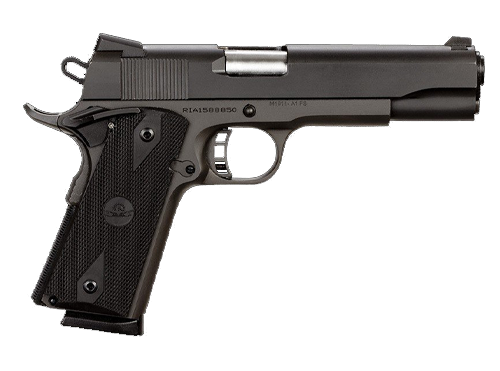 Even with shipping and an FFL fee tagged on locally, I will be paying less than I paid for the same pistol back in 2016 when I paid $379.98 shipped with a $40.00 FFL fee (I lived in NY at the time and yes the FFL fees were crazy). So back then, it worked out to a total of $419.98 plus whatever I had to pay to the county to have it added to my pistol license, either $5 or $10 as I recall. The cost this time around per pistol was $392.64 including the tax, shipping and the local FFL fee of $20.00. That is a pretty good deal although I think they have a cheaper finish now as I seem to recall my older one being blued not Parkerized; don't quote me on that because I do not have it readily accessible to check its finish. It is stashed away safe and secure elsewhere awaiting the zombie apocalypse. Anyway that is $32.34 each less than they would have cost me back in 2016 and at least $40.00 less than any others of the same pistol that I saw for sale this past Saturday (and that was before shipping, tax and FFL for those other ones I saw for sale). That seemed purdy good to me, so as I said, I ordered two. So I figured, 'Hey Ballseye, why let being pissed off allow you to miss a great deal on a great gun'! Now when it comes to Budwiper Light, well that is for me a very different story, never drank it in the first place and likely never will drink any of it and cannot stand their trying to shove woke down the customers' throats.

My former bitching issue with PSA brings me to the other thing about them, that I have read, which was some folks complaining about their orders with PSA taking what seemed like a very long time to be shipped. I ordered these four days ago and the order is still processing. That may seem longish to some but in reality, that was less than two full business days ago, so I will be patient. If not shipped by the end of the week, I will be concerned maybe they did not have as many in stock as they claimed to have. I note that today though, they are still shown in stock but at a bit of a higher price, $10 more (plus any additional tax) per pistol. Still that is a good deal, at least $30.00 less expensive than any others that I saw on Ammoseek.com, on Saturday. Oh yeah, what made the deal a bit sweeter for me was that they honored the $20.00 credit that I had essentially told them to shove where the sun does not shine back when I was upset.
Well, I would have sworn that 5 minutes or so ago they were offered at ten dollars more each but I just looked again and it shows as out of stock. So much for a great deal, deals like that disappear quickly. Damn, I just refreshed the page an it is again showing them for sale at $329.99, ready to be added to your shopping cart (yes yours, not mine - my order of two more will be enough)!

Anyway, once I get them I probably will do a review on their condition without firing them, at least at first. One is a keeper, the other I may or may not sell. I know already that the one I got previously (it was actually the 2nd one as I am about to explain) was just fine when it came to shots fired; although, the original one had to go back due to a problem and Armscor, the parent company of RIA, sent me a new one because either the slide or frame of mine was not to specs. Anyway the replacement was just fine and they got me a new one fairly quickly. There have not been any issues at all with it. So, I imagine these will be the same - good to go - and I hope so. I will shoot them, or the one I keep if I sell the other, eventually but will be in no hurry as long as I do it well before the warranty expires.
If you want to check the specs, go to the site at this link: https://www.armscor.com/firearms-list/m1911-a1-fs-tacrock-standard-fs-45acp-8rd. y
If you want to make a purchase, go here before they run out again: https://palmettostatearmory.com/rock-island-1911-rock-standard-fs-45-acp-pistol-51431.html
Glenn B